Group leaders: Giuseppina CALIGIURI & Antonino NICOLETTI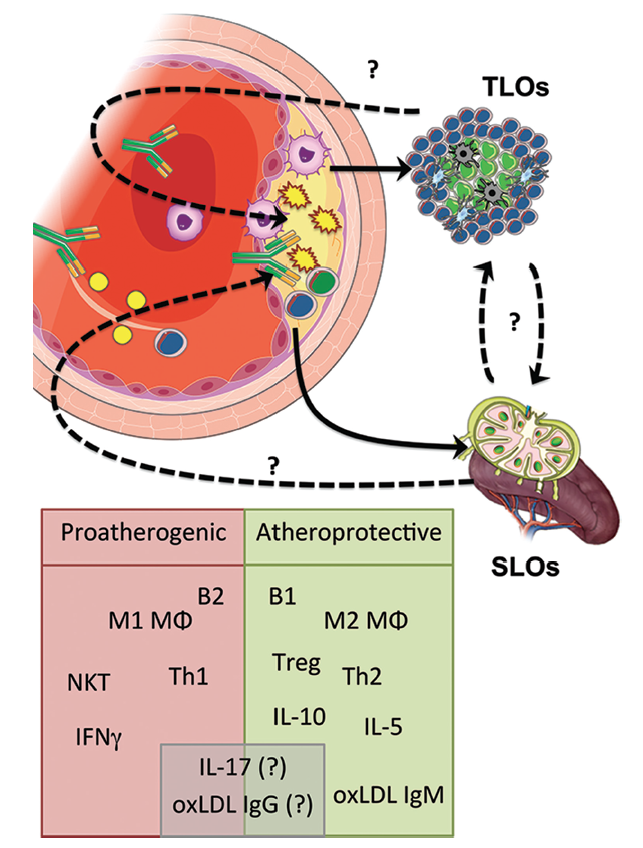 The research in this team is devoted to study the multiple mechanisms through which the immune system
interacts with diseased vessels and we design new vascular-protective immunointervention strategies. Our research program relies on specific skills and tools: experimental animal models, tissue biobank, (immuno-)histology, and up-to-date flow cytometry core.
In the recent years, we have:
Identified the CD31 as a molecule of pacification of the blood-vessel interface and have brought the proof of concept of its therapeutic potential;
Deciphered local immune responses around atherothrombotic vessels and defined novel pathogenic immune pathways in the advanced stages of atherothrombotic disease;
Targeted the neutrophils and their molecular effectors in stroke.
Our current major research focuses are: 
To suppress adverse vascular effects of reperfusion in brain, heart, intestine, and lungs;
To evaluate new immune-related pathways and immunointervention strategies;
To investigate the causal link between atherothrombosis and periodontal diseases;
To evaluate the role of CD31 in transplantation;
To discover new cellular and molecular pathways leading to aortic valve calcification.
Since 2012, we have filed 6 patents:
Caligiuri G, Nicoletti A. 2012. "Use of CD31 peptides in the treatment of atherothrombosis and autoimmune disorders". PCT/EP2009058188 / WO 2010/000741 A1.
Caligiuri G, Nicoletti A. 2012. "Improved CD31 peptides". PCT/EP2013/062806 / WO2013190014 A1.
Caligiuri G, Nicoletti A. 2015. "Detection of shed CD31, diagnosis of atherothrombosis and autoimmune disorders, and methods for analyzing signaling pathways". PCT/EPT2009/58220 / WO 2010/000756 A1.
Caligiuri G, Nicoletti A. 2015. "Detection of platelet-derived shed CD31". PCT/EP2013/055489 / WO2013152919 A1.
Caligiuri G, Nicoletti A, Le Guludec D, Bay S. 2016. "CD31shed as a molecular target for imaging of inflammation". EP16305516.
Caligiuri G, Nicoletti A, Michel JB. 2016. "CD31shed agonists for use in the prevention and/or treatment of reperfusion injury". EP16305311.
2460799
TEAYKV7Q
items
1
infection-and-immunity
date
desc
year
1.
Prendergast B, Vahanian A. 2022. The 2021 ESC/EACTS guidelines for the management of valvular heart disease: a new template for Heart Teams and their patients. Cardiovasc Res 118:e11–e13.
1.
De Broucker C, Plessier A, Ollivier-Hourmand I, Dharancy S, Bureau C, Cervoni JP, Sogni P, Goria O, Corcos O, Sartoris R, Ronot M, Vilgrain V, de Raucourt E, Zekrini K, Davy H, Durand F, Payancé A, Fidouh-Houhou N, Yazdanpanah Y, Valla D, Rautou PE. 2022. Multicenter study on recent portal venous system thrombosis associated with cytomegalovirus disease. J Hepatol 76:115–122.
1.
Pavon AG, Porretta AP, Arangalage D, Domenichini G, Rutz T, Hugelshofer S, Pruvot E, Monney P, Pascale P, Schwitter J. 2022. Feasibility of adenosine stress cardiovascular magnetic resonance perfusion imaging in patients with MR-conditional transvenous permanent pacemakers and defibrillators. J Cardiovasc Magn Reson 24:9.
1.
Abdoul N, Legeai C, Cantrelle C, Mercier O, Olland A, Mordant P, Thomas PA, Jougon J, Tissot A, Maury JM, Sage E, Dorent R. 2022. Impact of Ex Vivo Lung Perfusion on Brain-Dead Donor Lung Utilization: the French Experience. Am J Transplant
https://doi.org/10.1111/ajt.16953
.
1.
Vulesevic B, Kubota N, Burwash IG, Cimadevilla C, Tubiana S, Duval X, Nguyen V, Arangalage D, Chan KL, Mulvihill EE, Beauchesne L, Messika-Zeitoun D. 2021. Size-adjusted aortic valve area: refining the definition of severe aortic stenosis. Eur Heart J Cardiovasc Imaging 22:1142–1148.
1.
Vahanian A, Praz F, Milojevic M, Beyersdorf F. 2021. The "ten commandments" for the 2021 ESC/EACTS Guidelines on valvular heart disease. Eur Heart J 42:4207–4208.
1.
Vahanian A, Beyersdorf F, Praz F, Milojevic M, Baldus S, Bauersachs J, Capodanno D, Conradi L, De Bonis M, De Paulis R, Delgado V, Freemantle N, Haugaa KH, Jeppsson A, Jüni P, Pierard L, Prendergast BD, Sádaba JR, Tribouilloy C, Wojakowski W. 2021. 2021 ESC/EACTS Guidelines for the management of valvular heart disease. EuroIntervention
https://doi.org/10.4244/eij-e-21-00009
.
1.
Urena M, Lemann T, Chong-Nguyen C, Brochet E, Ducrocq G, Carrasco JL, Iung B, Vahanian A, Himbert D. 2021. Causes and predictors of mortality after transcatheter mitral valve implantation in patients with severe mitral annulus calcification. Catheter Cardiovasc Interv 98:981–989.
1.
Yu X, Chen X, Amrute-Nayak M, Allgeyer E, Zhao A, Chenoweth H, Clement M, Harrison J, Doreth C, Sirinakis G, Krieg T, Zhou H, Huang H, Tokuraku K, Johnston DS, Mallat Z, Li X. 2021. MARK4 controls ischaemic heart failure through microtubule detyrosination. Nature 594:560–565.
1.
Venditti L, Chassin O, Ancelet C, Legris N, Sarov M, Lapergue B, Mihalea C, Ozanne A, Gallas S, Cortese J, Chalumeau V, Ikka L, Caroff J, Labreuche J, Spelle L, Denier C. 2021. Pre-procedural predictive factors of symptomatic intracranial hemorrhage after thrombectomy in stroke. J Neurol 268:1867–1875.
1.
Urena M, Vahanian A, Brochet E, Ducrocq G, Iung B, Himbert D. 2021. Current Indications for Transcatheter Mitral Valve Replacement Using Transcatheter Aortic Valves: Valve-in-Valve, Valve-in-Ring, and Valve-in-Mitral Annulus Calcification. Circulation 143:178–196.
1.
Sudre J, Venditti L, Ancelet C, Chassin O, Sarov M, Smadja D, Chausson N, Lun F, Laine O, Duron E, Verny C, Spelle L, Rouquette A, Legris N, Denier C. 2021. Reperfusion therapy for acute ischemic stroke in older people: An observational real-life study. J Am Geriatr Soc 69:3167–3176.
1.
Spelle L, Herbreteau D, Caroff J, Barreau X, Ferré JC, Fiehler J, Januel AC, Costalat V, Liebig T, Bourcier R, Möhlenbruch M, Berkefeld J, Weber W, Mihalea C, Ikka L, Ozanne A, Cognard C, Narata AP, Bibi RE, Gauvrit JY, Raoult H, Velasco S, Buhk JH, Chalumeau V, Bester M, Desal H, du Mesnil de Rochemont R, Bohner G, Fischer S, Biondi A, Grimaldi L, Moret J, Byrne J, Pierot L. 2021. CLinical Assessment of WEB device in Ruptured aneurYSms (CLARYS): results of 1-month and 1-year assessment of rebleeding protection and clinical safety in a multicenter study. J Neurointerv Surg
https://doi.org/10.1136/neurintsurg-2021-017416
.
1.
Sinning C, Zengin E, Diller GP, Onorati F, Castel MA, Petit T, Chen YS, Lo Rito M, Chiarello C, Guillemain R, Coniat KN, Magnussen C, Knappe D, Becher PM, Schrage B, Smits JM, Metzner A, Knosalla C, Schoenrath F, Miera O, Cho MY, Bernhardt A, Weimann J, Goßling A, Terzi A, Amodeo A, Alfieri S, Angeli E, Ragni L, Napoleone CP, Gerosa G, Pradegan N, Rodrigus I, Dumfarth J, de Pauw M, François K, Van Caenegem O, Ancion A, Van Cleemput J, Miličić D, Moza A, Schenker P, Thul J, Steinmetz M, Warnecke G, Ius F, Freyt S, Avsar M, Sandhaus T, Haneya A, Eifert S, Saeed D, Borger M, Welp H, Ablonczy L, Schmack B, Ruhparwar A, Naito S, Hua X, Fluschnik N, Nies M, Keil L, Senftinger J, Ismaili D, Kany S, Csengeri D, Cardillo M, Oliveti A, Faggian G, Dorent R, Jasseron C, Blanco AP, Márquez JMS, López-Vilella R, García-Álvarez A, López MLP, Rocafort AG, Fernández Ó G, Prieto-Arevalo R, Zatarain-Nicolás E, Blanchart K, Boignard A, Battistella P, Guendouz S, Houyel L, Para M, Flecher E, Gay A, Épailly É, Dambrin C, Lam K, Ka-Lai CH, Cho YH, Choi JO, Kim JJ, Coats L, Crossland DS, Mumford L, Hakmi S, Sivathasan C, others. 2021. Study design and rationale of the pAtients pResenTing with cOngenital heaRt dIseAse Register (ARTORIA-R). ESC Heart Fail 8:5542–5550.
1.
Savary A, Hammouda M, Genet L, Godet C, Bunel V, Weisenburger G, Goletto T, Medraoui C, Jebrak G, Marceau A, Tran-Dinh A, Mordant P, Castier Y, Montravers P, Mal H, Messika J. 2021. Coping strategies, anxiety and depression related to the COVID-19 pandemic in lung transplant candidates and recipients. Results from a monocenter series. Respir Med Res 80:100847.
1.
Sannier A, Stroumza N, Atlan M, Even G, Guedj K, Sénémaud J, Coscas R, Caligiuri G, Nicoletti A. 2021. A CD31-Derived Peptide Prevents the Development of Antibody-Mediated Lesions in a Rat Model of Aortic Allograft. Transplant Proc 53:746–749.
1.
Saidoune F, Even G, Lamri Y, Chezel J, Gaston AT, Escoubet B, Papo T, Charles N, Nicoletti A, Sacre K. 2021. Effects of BAFF Neutralization on Atherosclerosis Associated With Systemic Lupus Erythematosus. Arthritis Rheumatol 73:255–264.
1.
Tsiantoulas D, Eslami M, Obermayer G, Clement M, Smeets D, Mayer FJ, Kiss MG, Enders L, Weißer J, Göderle L, Lambert J, Frommlet F, Mueller A, Hendrikx T, Ozsvar-Kozma M, Porsch F, Willen L, Afonyushkin T, Murphy JE, Fogelstrand P, Donzé O, Pasterkamp G, Hoke M, Kubicek S, Jørgensen HF, Danchin N, Simon T, Scharnagl H, März W, Borén J, Hess H, Mallat Z, Schneider P, Binder CJ. 2021. APRIL limits atherosclerosis by binding to heparan sulfate proteoglycans. Nature 597:92–96.
1.
Stehlik J, Christie JD, Goldstein DR, Amarelli C, Bertolotti A, Chambers DC, Dorent R, Gonzalez-Vilchez F, Parameshwar J, Perch M, Zuckermann A, Coll E, Levy RD, Atik FA, Gomez-Mesa JE, Moayedi Y, Peled-Potashnik Y, Schultz G, Cherikh W, Danziger-Isakov L. 2021. The evolution of the ISHLT transplant registry. Preparing for the future. J Heart Lung Transplant 40:1670–1681.
1.
Sénémaud JN, Roussel A, Pellenc Q, Chardigny C, Cerceau P, Corcos O, Ben Abdallah I, Castier Y. 2021. Retrograde Open Mesenteric Stenting for Acute and Chronic Mesenteric Ischaemia: Results from an Intestinal Stroke Centre. Eur J Vasc Endovasc Surg 62:55–63.
1.
Schlotter F, Miura M, Kresoja KP, Alushi B, Alessandrini H, Attinger-Toller A, Besler C, Biasco L, Braun D, Brochet E, Connelly KA, de Bruijn S, Denti P, Estevez-Loureiro R, Fam N, Gavazzoni M, Himbert D, Ho EC, Juliard JM, Kalbacher D, Kaple R, Kreidel F, Latib A, Lubos E, Ludwig S, Mehr M, Monivas V, Nazif TM, Nickenig G, Pedrazzini G, Pozzoli A, Praz F, Puri R, Rodés-Cabau J, Rommel KP, Schäfer U, Schofer J, Sievert H, Tang GHL, Thiele H, Unterhuber M, Vahanian A, von Bardeleben RS, von Roeder M, Webb JG, Weber M, Wild MG, Windecker S, Zuber M, Hausleiter J, Maisano F, Leon MB, Hahn RT, Lauten A, Taramasso M, Lurz P. 2021. Outcomes of transcatheter tricuspid valve intervention by right ventricular function: a multicentre propensity-matched analysis. EuroIntervention 17:e343–e352.
1.
Nuzzo A, Guedj K, Curac S, Hercend C, Bendavid C, Gault N, Tran-Dinh A, Ronot M, Nicoletti A, Bouhnik Y, Castier Y, Corcos O, Peoc'h K. 2021. Accuracy of citrulline, I-FABP and D-lactate in the diagnosis of acute mesenteric ischemia. Sci Rep 11:18929.
1.
Nogueira RG, Abdalkader M, Qureshi MM, Frankel MR, Mansour OY, Yamagami H, Qiu Z, Farhoudi M, Siegler JE, Yaghi S, Raz E, Sakai N, Ohara N, Piotin M, Mechtouff L, Eker O, Chalumeau V, Kleinig TJ, Pop R, Liu J, Winters HS, Shang X, Vasquez AR, Blasco J, Arenillas JF, Martinez-Galdamez M, Brehm A, Psychogios MN, Lylyk P, Haussen DC, Al-Bayati AR, Mohammaden MH, Fonseca L, Luís Silva M, Montalverne F, Renieri L, Mangiafico S, Fischer U, Gralla J, Frei D, Chugh C, Mehta BP, Nagel S, Mohlenbruch M, Ortega-Gutierrez S, Farooqui M, Hassan AE, Taylor A, Lapergue B, Consoli A, Campbell BC, Sharma M, Walker M, Van Horn N, Fiehler J, Nguyen HT, Nguyen QT, Watanabe D, Zhang H, Le HV, Nguyen VQ, Shah R, Devlin T, Khandelwal P, Linfante I, Izzath W, Lavados PM, Olavarría VV, Sampaio Silva G, de Carvalho Sousa AV, Kirmani J, Bendszus M, Amano T, Yamamoto R, Doijiri R, Tokuda N, Yamada T, Terasaki T, Yazawa Y, Morris JG, Griffin E, Thornton J, Lavoie P, Matouk C, Hill MD, Demchuk AM, Killer-Oberpfalzer M, Nahab F, Altschul D, Ramos-Pachón A, Pérez de la Ossa N, Kikano R, Boisseau W, Walker G, Cordina SM, Puri A, Luisa Kuhn A, Gandhi D, Ramakrishnan P, Novakovic-White R, others. 2021. Global impact of COVID-19 on stroke care. Int J Stroke 16:573–584.
1.
Nguyen V, Willner N, Eltchaninoff H, Burwash IG, Michel M, Durand E, Gilard M, Dindorf C, Iung B, Cribier A, Vahanian A, Chevreul K, Messika-Zeitoun D. 2021. Trends in aortic valve replacement for aortic stenosis: a French nationwide study. Eur Heart J
https://doi.org/10.1093/eurheartj/ehab773
.
1.
Muszynski P, Anadani M, Richard S, Marnat G, Bourcier R, Sibon I, Dargazanli C, Arquizan C, Maïer B, Blanc R, Lapergue B, Consoli A, Eugene F, Vannier S, Spelle L, Denier C, Boulanger M, Gauberti M, Saleme S, Macian F, Clarençon F, Rosso C, Naggara O, Turc G, Ozkul-Wermester O, Papagiannaki C, Viguier A, Cognard C, Le Bras A, Evain S, Wolff V, Pop R, Timsit S, Gentric JC, Bourdain F, Veunac L, Gory B, Finitsis SN. 2021. Endovascular reperfusion of M2 occlusions in acute ischemic stroke reduced disability and mortality: ETIS Registry results. J Neurointerv Surg
https://doi.org/10.1136/neurintsurg-2021-017380
.
1.
Messika-Zeitoun D, Iung B, Armoiry X, Trochu JN, Donal E, Habib G, Brochet E, Thibault H, Piriou N, Cormier B, Tribouilloy C, Guerin P, Lefèvre T, Maucort-Boulch D, Vahanian A, Boutitie F, Obadia JF. 2021. Impact of Mitral Regurgitation Severity and Left Ventricular Remodeling on Outcome After MitraClip Implantation: Results From the Mitra-FR Trial. JACC Cardiovasc Imaging 14:742–752.
1.
Messika-Zeitoun D, Candolfi P, Dreyfus J, Burwash IG, Iung B, Philippon JF, Toussaint JM, Verta P, Feldman TE, Obadia JF, Vahanian A, Mesana T, Enriquez-Sarano M. 2021. Management and Outcome of Patients Admitted With Tricuspid Regurgitation in France. Can J Cardiol 37:1078–1085.
1.
Pagiola I, Chassin O, Gallas S, Riviere MS, Legris N, Mihalea C, Caroff J, Ikka L, Chalumeau V, de Aguiar GB, Ozanne A, Moret J, Denier C, Spelle L. 2021. Extending the stroke treatment window beyond DAWN in patients with very slow progressor type collaterals: How far can we go? J Cerebrovasc Endovasc Neurosurg 23:354–358.
1.
Namazi F, van der Bijl P, Fortuni F, Mertens BJA, Kamperidis V, van Wijngaarden SE, Stone GW, Narula J, Ajmone Marsan N, Vahanian A, Delgado V, Bax JJ. 2021. Regurgitant Volume/Left Ventricular End-Diastolic Volume Ratio: Prognostic Value in Patients With Secondary Mitral Regurgitation. JACC Cardiovasc Imaging 14:730–739.
1.
Messika J, Schmidt M, Tran-Dinh A, Mordant P. 2021. Lung transplantation for COVID-19-associated ARDS. Lancet Respir Med 9:e89.
1.
Martin C, Legeai C, Regard L, Cantrelle C, Dorent R, Carlier N, Kerbaul F, Burgel PR. 2021. Major Decrease in Lung Transplantation for Patients with Cystic Fibrosis in France. Am J Respir Crit Care Med
https://doi.org/10.1164/rccm.202109-2121LE
.
1.
Lapergue B, Blanc R, Costalat V, Desal H, Saleme S, Spelle L, Marnat G, Shotar E, Eugene F, Mazighi M, Houdart E, Consoli A, Rodesch G, Bourcier R, Bracard S, Duhamel A, Ben Maacha M, Lopez D, Renaud N, Labreuche J, Gory B, Piotin M. 2021. Effect of Thrombectomy With Combined Contact Aspiration and Stent Retriever vs Stent Retriever Alone on Revascularization in Patients With Acute Ischemic Stroke and Large Vessel Occlusion: The ASTER2 Randomized Clinical Trial. Jama 326:1158–1169.
1.
Iung B, Arangalage D. 2021. Community burden of aortic valve disease. Heart 107:1446–1447.
1.
Happi Ngankou E, Gory B, Marnat G, Richard S, Bourcier R, Sibon I, Dargazanli C, Arquizan C, Maïer B, Blanc R, Lapergue B, Consoli A, Vannier S, Spelle L, Denier C, Boulanger M, Gauberti M, Saleme S, Macian F, Clarençon F, Rosso C, Naggara O, Turc G, Ozkul-Wermester O, Papagiannaki C, Viguier A, Cognard C, Lebras A, Evain S, Wolff V, Pop R, Timsit S, Gentric JC, Bourdain F, Veunac L, Eugène F, Finitsis S. 2021. Thrombectomy Complications in Large Vessel Occlusions: Incidence, Predictors, and Clinical Impact in the ETIS Registry. Stroke 52:e764–e768.
1.
Granger C, Guedeney P, Arnaud C, Guendouz S, Cimadevilla C, Kerneis M, Kerneis C, Zeitouni M, Verdonk C, Legeai C, Lebreton G, Leprince P, Désiré E, Sorrentino S, Silvain J, Montalescot G, Hazan F, Varnous S, Dorent R. 2021. Clinical manifestations and outcomes of coronavirus disease-19 in heart transplant recipients: a multicentre case series with a systematic review and meta-analysis. Transpl Int 34:721–731.
1.
Girault A, Pellenc Q, Roussel A, Senemaud J, Cerceau P, Maggiori L, Huguet A, Corcos O, Ben Abdallah I, Castier Y. 2021. Midterm results after covered stenting of the superior mesenteric artery. J Vasc Surg 74:902-909.e3.
1.
Garnier S, Harakalova M, Weiss S, Mokry M, Regitz-Zagrosek V, Hengstenberg C, Cappola TP, Isnard R, Arbustini E, Cook SA, van Setten J, Calis JJA, Hakonarson H, Morley MP, Stark K, Prasad SK, Li J, O'Regan DP, Grasso M, Müller-Nurasyid M, Meitinger T, Empana JP, Strauch K, Waldenberger M, Marguiles KB, Seidman CE, Kararigas G, Meder B, Haas J, Boutouyrie P, Lacolley P, Jouven X, Erdmann J, Blankenberg S, Wichter T, Ruppert V, Tavazzi L, Dubourg O, Roizes G, Dorent R, de Groote P, Fauchier L, Trochu JN, Aupetit JF, Bilinska ZT, Germain M, Völker U, Hemerich D, Raji I, Bacq-Daian D, Proust C, Remior P, Gomez-Bueno M, Lehnert K, Maas R, Olaso R, Saripella GV, Felix SB, McGinn S, Duboscq-Bidot L, van Mil A, Besse C, Fontaine V, Blanché H, Ader F, Keating B, Curjol A, Boland A, Komajda M, Cambien F, Deleuze JF, Dörr M, Asselbergs FW, Villard E, Trégouët DA, Charron P. 2021. Genome-wide association analysis in dilated cardiomyopathy reveals two new players in systolic heart failure on chromosomes 3p25.1 and 22q11.23. Eur Heart J 42:2000–2011.
1.
Ferlicot S, Jamme M, Gaillard F, Oniszczuk J, Couturier A, May O, Grünenwald A, Sannier A, Moktefi A, Le Monnier O, Petit-Hoang C, Maroun N, Brodin-Sartorius A, Michon A, Dobosziewicz H, Andreelli F, Guillet M, Izzedine H, Richard C, Dekeyser M, Arrestier R, Sthelé T, Lefèvre E, Mathian A, Legendre C, Mussini C, Verpont MC, Pallet N, Amoura Z, Essig M, Snanoudj R, Brocheriou-Spelle I, François H, Belenfant X, Geri G, Daugas E, Audard V, Buob D, Massy ZA, Zaidan M. 2021. The spectrum of kidney biopsies in hospitalized patients with COVID-19, acute kidney injury, and/or proteinuria. Nephrol Dial Transplant
https://doi.org/10.1093/ndt/gfab042
.
1.
Ksouri A, Copin P, Bonvalet F, Bozi L, Cazals-Hatem D, Garzelli L, Panis Y, Weiss E, Castier Y, Bouhnik Y, Corcos O, Vilgrain V, Ronot M, Nuzzo A. 2021. Colonic involvement in acute mesenteric ischemia: prevalence, risk factors, and outcomes. Eur Radiol
https://doi.org/10.1007/s00330-021-08318-6
.
1.
Kikoïne J, Urena M, Chong Nguyen C, Fischer Q, Carrasco JL, Brochet E, Ducrocq G, Vahanian A, Iung B, Himbert D. 2021. Predictors and clinical impact of thrombosis after transcatheter mitral valve implantation using balloon-expandable bioprostheses. EuroIntervention 16:1455–1462.
1.
Gerschenfeld G, Smadja D, Turc G, Olindo S, Laborne FX, Yger M, Caroff J, Gonçalves B, Seners P, Cantier M, l'Hermitte Y, Aghasaryan M, Alecu C, Marnat G, Ben Hassen W, Kalsoum E, Clarençon F, Piotin M, Spelle L, Denier C, Sibon I, Alamowitch S, Chausson N. 2021. Functional Outcome, Recanalization, and Hemorrhage Rates After Large Vessel Occlusion Stroke Treated With Tenecteplase Before Thrombectomy. Neurology 97:e2173–e2184.
1.
Eugène M, Duchnowski P, Prendergast B, Wendler O, Laroche C, Monin JL, Jobic Y, Popescu BA, Bax JJ, Vahanian A, Iung B. 2021. Contemporary Management of Severe Symptomatic Aortic Stenosis. J Am Coll Cardiol 78:2131–2143.
1.
Elmaleh Y, De Tymowski C, Zappella N, Jean-Baptiste S, Tran-Dinh A, Tanaka S, Yung S, Lortat-Jacob B, Mal H, Castier Y, Atchade E, Montravers P. 2021. Blood transfusion of the donor is associated with stage 3 primary graft dysfunction after lung transplantation. Clin Transplant 35:e14407.
1.
Diaz-Rodriguez S, Rasser C, Mesnier J, Chevallier P, Gallet R, Choqueux C, Even G, Sayah N, Chaubet F, Nicoletti A, Ghaleh B, Feldman LJ, Mantovani D, Caligiuri G. 2021. Coronary stent CD31-mimetic coating favours endothelialization and reduces local inflammation and neointimal development in vivo. Eur Heart J 42:1760–1769.
1.
Delyon J, Zuber J, Dorent R, Poujol-Robert A, Peraldi MN, Anglicheau D, Lebbe C. 2021. Immune Checkpoint Inhibitors in Transplantation-A Case Series and Comprehensive Review of Current Knowledge. Transplantation 105:67–78.
1.
Couture M, Finitsis S, Marnat G, Richard S, Bourcier R, Constant-Dits-Beaufils P, Dargazanli C, Arquizan C, Mazighi M, Blanc R, Eugène F, Vannier S, Spelle L, Denier C, Touzé E, Barbier C, Saleme S, Macian F, Rosso C, Clarençon F, Naggara O, Turc G, Ozkul-Wermester O, Papagiannaki C, Viguier A, Cognard C, Lebras A, Evain S, Wolff V, Pop R, Timsit S, Gentric JC, Bourdain F, Veunac L, Lapergue B, Consoli A, Gory B, Sibon I. 2021. Impact of Prior Antiplatelet Therapy on Outcomes After Endovascular Therapy for Acute Stroke: Endovascular Treatment in Ischemic Stroke Registry Results. Stroke 52:3864–3872.
1.
Corpataux N, Brugger N, Hunziker L, Reineke D, Windecker S, Vahanian A, Praz F. 2021. The role of transcatheter mitral valve leaflet approximation for the treatment of secondary mitral regurgitation: current status and future prospects. Expert Rev Med Devices 18:261–272.
1.
Clément M, Lareyre F, Loste A, Sannier A, Burel-Vandenbos F, Massiot N, Carboni J, Jean-Baptiste E, Caligiuri G, Nicoletti A, Raffort J. 2021. Vascular Remodeling and Immune Cell Infiltration in Splenic Artery Aneurysms. Angiology 72:539–549.
1.
El Sabbagh A, Al-Hijji M, Wang DD, Eleid M, Urena M, Himbert D, Chakravarty T, Holzhey D, Pershad A, Fang HK, Nejjari M, Zahr F, Dvir D, Sardar MR, Cheema AN, Alnasser S, Iyer V, Kaddissi G, Webb J, Makkar R, Vahanian A, O'Neill W, Rihal C, Guerrero M. 2021. Predictors of Left Ventricular Outflow Tract Obstruction After Transcatheter Mitral Valve Replacement in Severe Mitral Annular Calcification: An Analysis of the Transcatheter Mitral Valve Replacement in Mitral Annular Calcification Global Registry. Circ Cardiovasc Interv 14:e010854.
1.
Cortese J, Rasser C, Even G, Bardet SM, Choqueux C, Mesnier J, Perrin ML, Janot K, Caroff J, Nicoletti A, Michel JB, Spelle L, Caligiuri G, Rouchaud A. 2021. CD31 Mimetic Coating Enhances Flow Diverting Stent Integration into the Arterial Wall Promoting Aneurysm Healing. Stroke 52:677–686.