Bronchodilation induced by PGE2 is impaired in Group-III pulmonary hypertension
Ozen G, Benyahia C, Mani S, Boukais K, Silverstein AM, Bayles R, Nelsen AC, Castier Y, Danel C, Mal H, Clapp LH, Longrois D, Norel X
2019 • Br J Pharmacol • [pdf]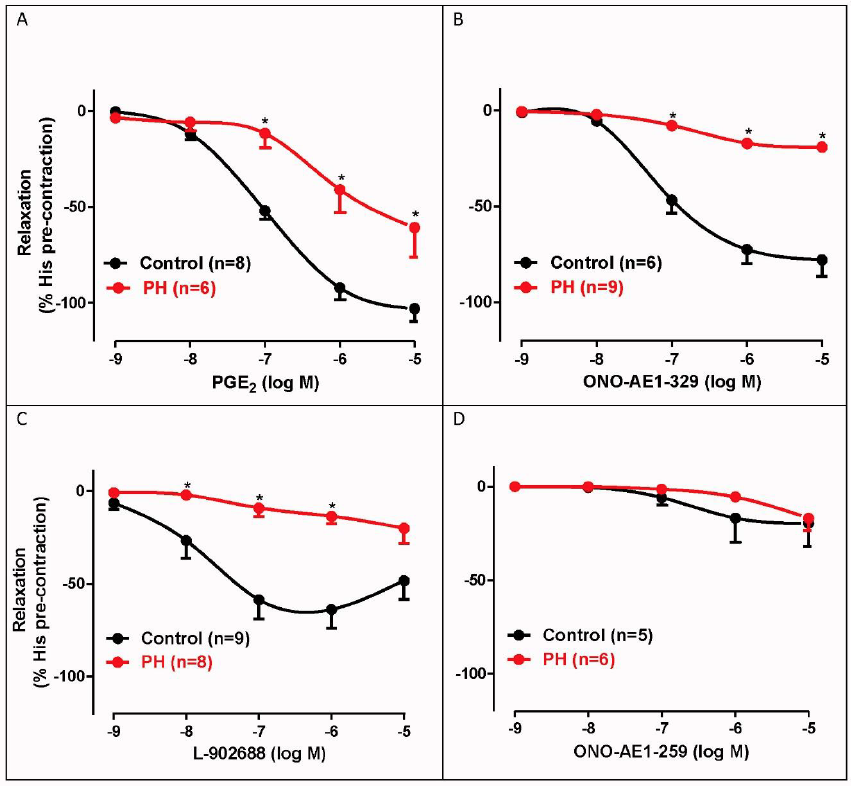 BACKGROUND AND PURPOSE: In patients with pulmonary hypertension (PH) associated with lung disease and/or hypoxia (Group III), a reduction of pulmonary vascular tone and tissue hypoxia are considered therapeutically beneficial. Prostaglandin (PG) E2 and PGI2 induce potent relaxation of human bronchi from non-PH (control) patients via EP4 and IP receptors, respectively. However, the effects of PGE2 /PGI2 and their mimetics on human bronchi from PH-patients are unknown. Our aim was to compare the relaxant effects of several PGI2 -mimetics approved for treating PH-Group I with several PGE2 -mimetics in bronchial preparations derived from PH-Group III and control patients.
EXPERIMENTAL APPROACH: Using an organ bath system, the tone of bronchial muscle was investigated in tissue from either control or PH-Group III patients. Expression of prostanoid receptors were analyzed by Western blot and real-time PCR and endogenous PGE2 , PGI2 and cAMP levels were determined by ELISA.
KEY RESULTS: Maximal relaxations induced by different EP4 agonists (PGE2 , L-902688, ONO-AE1-329) were significantly decreased in human bronchi from PH-patients versus controls. In contrast, the maximal relaxations produced by PGI2 -mimetics (iloprost, treprostinil, beraprost) were similar for both groups of patients. Both EP4 and IP receptor protein and mRNA expressions were significantly lower in human bronchi from PH-patients. cAMP levels significantly correlated with PGI2 but not with PGE2 levels.
CONCLUSION AND IMPLICATIONS: This study shows that PGI2 -mimetics have preserved maximal bronchodilation in PH-Group III patients. The decreased bronchodilation induced by EP4 agonists suggests that restoration of EP4 expression in airways of PH-patients with respiratory diseases could bring additional therapeutic benefit.